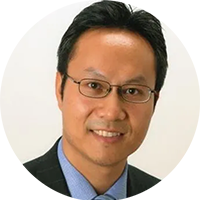 Dr. Wu obtained his Doctorate of Dental Medicine at Harvard University.  He also earned his Orthodontic Certification and Master's Degree in Oral Biology from Harvard University.
Having spent much of his childhood in the San Francisco Bay Area, Dr. Wu attended Middle School and High School on the Peninsula.  During High School, Dr. Wu developed a keen interest in dentistry while volunteering at a community dental clinic.   Following High School, Dr. Wu attended UCLA and graduated with honors in the field of Molecular Cell Developmental Biology.
Dr. Wu's passion for his profession is well reflected in his ongoing involvement at the American Dental Association, California Dental Association, and the San Mateo Dental Society.  Dr. Wu enjoys attending numerous continuing education classes to keep himself up to date with the latest dental and orthodontic developments.
With over twelve years of orthodontic experience, Dr. Wu has treated thousands of satisfied patients in the San Francisco Bay Area.  He is a dedicated doctor who only wants what is best for his patients.  He is diligent in delivering the best care and exceptional services to the patients under his care.  Additionally, Dr. Wu is bilingual in both Mandarin and English.
During his free time, Dr. Wu enjoys hiking, watching movies, and spending time with his wife and children.   Dr. Wu is excited to become a member of the Pannu Dental Group team and is looking forward to meeting with you and your family.
Dr. Mistry joined Pannu Dental Group in 2017; her practice focuses on Family Dental Care including Pediatric dentistry. The patients appreciate her gentle professional approach with no compromise on quality of treatment. She continues to improve with continuing education training; her special interest lies in Invisalign, Implant and Cosmetic Dentistry.
Dr. Mistry enjoys cooking, art and spending time outdoors with her son, husband, and dog- Rumbum.
What can Dr. Wu do for you?
Specializing in Orthodontics