San Jose's First and Only Robot-Assisted Implant Surgery Center
The Future of Dental Implants is Here
The Future of Dental Implants is Here
Meet Yomi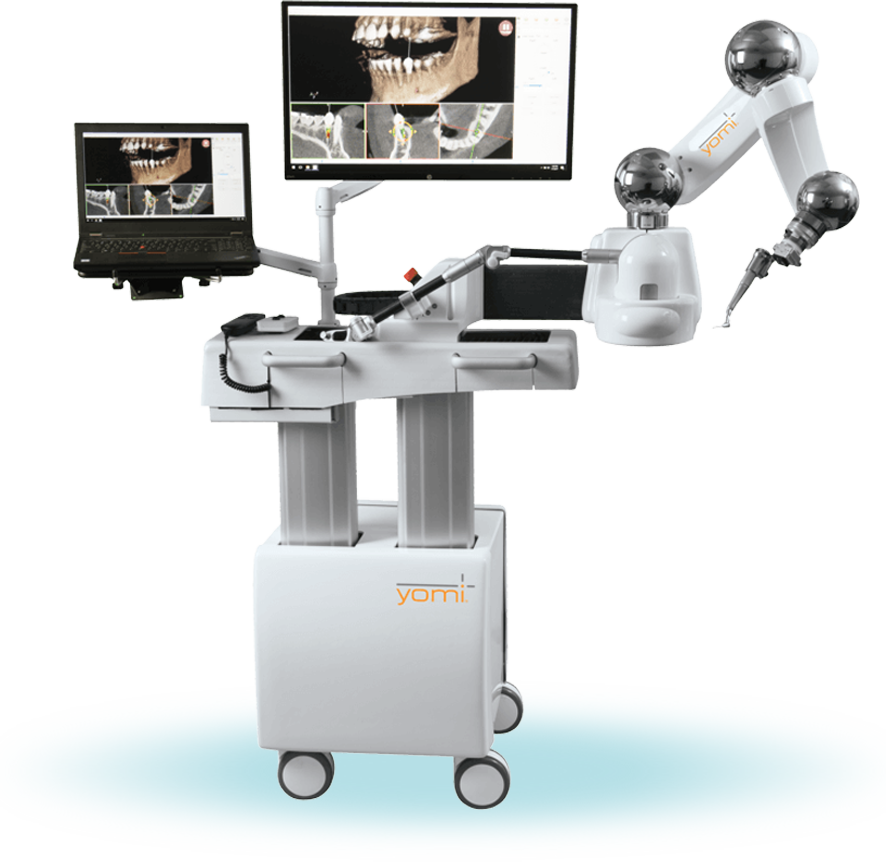 San Jose's First and Only Robot-Assisted Implant Surgery Center
Who is Yomi?
YOMI is the world's first and only FDA-cleared robotic device for dental surgery. Yomi assists the surgeon in the planning and placement of the implants, with an unprecedented level of precision and control. Using haptic guidance and multi-sensory feedback, Yomi helps to place your implants perfectly and safely.
Patient-Centered Treatment
Did you know robot-assisted surgery has become the preferred method for a wide variety of medical procedures? That's why more implant candidates are actively seeking out dental practices with a Yomi system.
Robot-guided implant placement is a revolutionary surgical modality that facilitates a seamless patient experience and helps dental professionals achieve excellent clinical outcomes.
What's So Great About Yomi?
Efficient Treatment
Yomi helps your dentist plan and place your implants with precision, so you get a more natural look and feel. We are persistent in our pursuit of excellence. We continuously invest in the latest technologies, treatments, and training to ensure you receive the highest standard of dental care. We believe that you always deserve the best.
Accuracy
The positional and angular accuracy clinicians can achieve when placing implants with Yomi helps simplify prosthesis placement, which can significantly lower restorative costs.
Minimally Invasive
Yomi is often used to perform flapless surgery, a less invasive technique that can accelerate surgery and recovery times as well as reduce pain and swelling
Are You Ready to See What Yomi Can Do for Your Smile?
Pannu Dental is ready to deliver the highest quality in advanced dental implant surgery for your well-being.
Inspiring Stories to Make You Smile
"This office is amazing! Always clean and the staff is very friendly. My son had…
Read More
"Dr Pannu is the best! Their office always treats us like family and makes us…
Read More
"I've been going to get my cleanings done at Pannu dental and the service is…
Read More
"Everyone on front desk are so warm and welcoming as soon as you walk in.…
Read More
Schedule a Consultation Today!