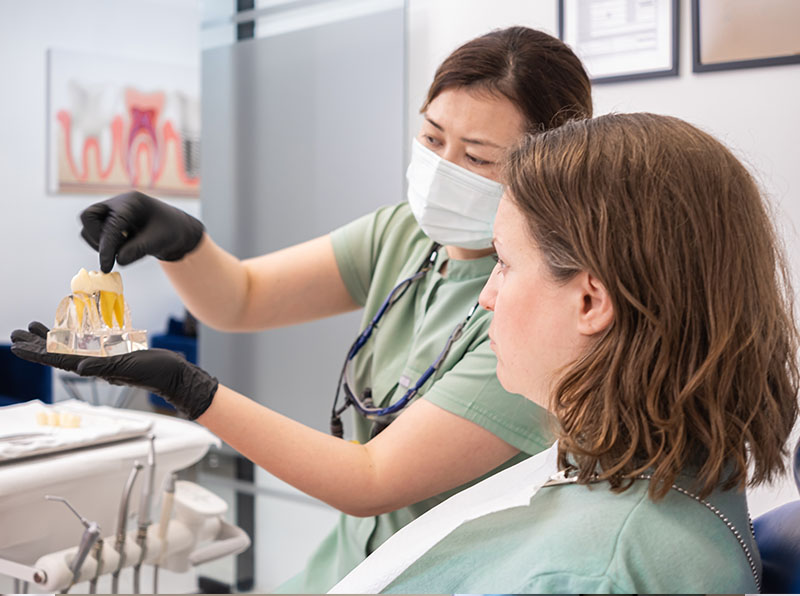 Healthy Oral Hygiene, Perfect Smiles: Discover the Best Dentists
At Pannu Dental Group, we have a goal – to deliver dental treatments that look natural.
For this reason, we are dedicated to replacing existing dental crowns and fillings with restorations that look and feel like your natural teeth.
Rediscover Your Smile's Natural Brilliance.
In cases where dental damage seems irreversible, we use porcelain or porcelain-fused-to-gold crowns to rejuvenate your smile. Our versatile techniques allow us to seamlessly replace missing teeth, create picture-perfect smiles, and restore full bit function.
Our reputation is built on the remarkable transformations we achieve using effective techniques.  These treatments offer lasting solutions for significant dental issues, often lasting up to 20 to 30 years – as close to permanent as dental treatments can get.
The Crown Fitting Process
Fitting a dental crown typically involves two office visits:
First Appointment: We remove decay, shape the tooth, and fit a temporary crown made of plastic or metal.
Second Appointment: We replace the temporary crown with the final crown, making necessary adjustments. Once the perfect fit is achieved, we securely cement the crown, unveiling your beautiful, newly restored tooth.
DOWNLOAD OUR DENTAL IMPLANT PRICING & INFORMATION GUIDE
Fill out the form below and we will email/text you the guide along with a $350 savings offer!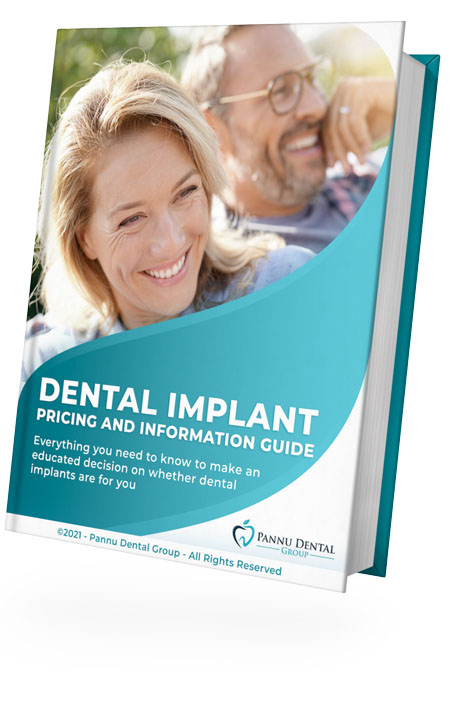 Unlock the Benefits of Dental Crowns
Replacement for Missing Teeth
Our natural-looking crowns fill in the gaps from missing teeth to give you a complete, radiant smile again.
Support for Misshapen or Damaged Teeth
Whether teeth are misshapen or broken, crowns provide the support needed for optimal function.
Natural Aesthetics
Crafted to mimic the appearance of your natural teeth, crowns blend flawlessly with your smile
Correction of Chewing and Cosmetic Issues
Dental crowns address both functional and cosmetic concerns, ensuring a beautiful smile and efficient chewing.
The Versatility of Crowns
Crown and bridgework offer reliable solutions for major dental issues caused by injuries, illnesses, or simple wear and tear over time. These techniques are ideally suited to correct major dental issues, utilizing high-grade porcelain or porcelain bonded to gold materials for added strength.
Crowns are an excellent solution for:
Relieving unexplained pain in filled back teeth caused by hairline cracks
Reinforcing front teeth weakened by older fillings prevents structural weaknesses and appearance problems
Preserving teeth with root canal fillings, minimizing the risk of breakage
The Art of Dentistry
At Pannu Dental Group, we elevate the art of dentistry to achieve results that restore your smile's natural radiance.
Inspiring Stories to Make You Smile
"This office is amazing! Always clean and the staff is very friendly. My son had…
Read More
"Dr Pannu is the best! Their office always treats us like family and makes us…
Read More
"I've been going to get my cleanings done at Pannu dental and the service is…
Read More
"Everyone on front desk are so warm and welcoming as soon as you walk in.…
Read More
Schedule a Consultation Today!