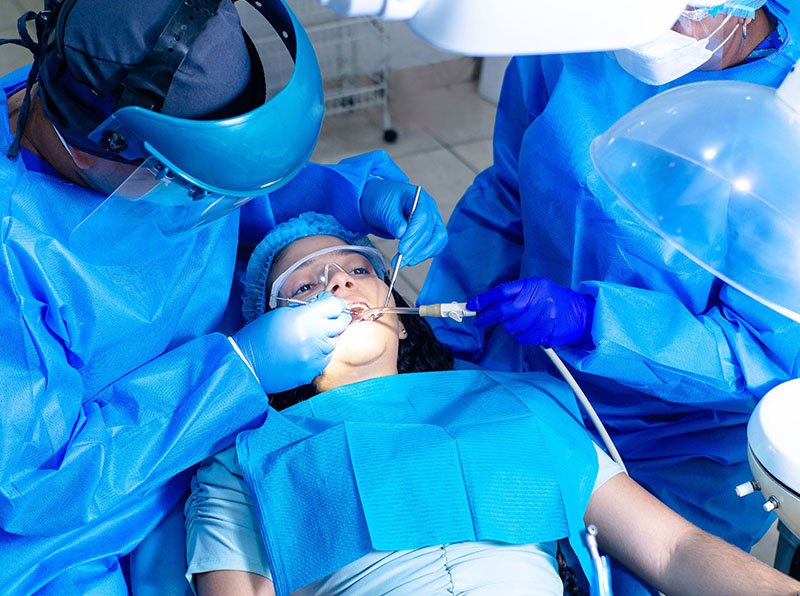 Preserve Your Natural Smile with Non-Surgical Root Canal
A root canal, one of the most common dental procedures performed worldwide, has saved countless natural teeth from extraction or the need for dental implants and bridges. It is the best and safest way to do this procedure is with an Endodontic Specialist.
Understanding a Root Canal
At the core of your tooth resides the pulp, a cluster of blood vessels vital for tooth development.
Infection can affect this pulp due to various factors, including trauma, deep decay, cracks, chips, or repeated dental procedures. Infection often manifests as visible injury or swelling of the tooth, sensitivity to temperature, or persistent pain in the tooth and gums.
The Non-Surgical Root Canal Procedure
Should you experience any of these symptoms, your dentist is likely to recommend non-surgical root canal treatment to eliminate the infected pulp, thereby saving your tooth. Non-surgical root canal therapy boasts an impressive success rate of approximately 90%, making it a highly effective solution.
Here's what to expect during the procedure:
Diagnosis: Your dentist will conduct a thorough examination of your tooth and may take X-rays to have a clear view of the extent of the infection
Local Anesthesia: To ensure a comfortable experience, you will receive local anesthesia
Pulp Removal: The infected pulp will be meticulously removed from your tooth
Cleaning and Sealing: The root canal system will be scrupulously cleaned and sealed to prevent further infection
This treatment typically spans one or more visits, depending on the complexity of the case. Following the procedure, you can usually return to your daily routine with minimal discomfort.
Post Root Canal Care
Once your root canal therapy is completed, records of your treatment will be forwarded to your restorative dentist. Within a few weeks, contact your restorative dentist for follow-up regarding the next steps to safeguard your tooth.
Complications after routine endodontic treatment are rare, but should any issues arise, our team is available to address them promptly. To prevent further decay, continue to maintain good dental hygiene practices.
Why Choose an Endodontist Specialist?
1
Unmatched Experience
On average, endodontists perform nearly 25 root canal treatments weekly, whereas general dentists complete fewer than two.
2
Precision and Efficiency
Devoting their practice exclusively to endodontic treatment, endodontists are highly efficient and precise, ensuring a positive experience and expedited healing.
3
Rapid Availability
Most endodontists prioritize emergency cases, minimizing treatment delays and providing quick relief from dental pain.
4
Cutting-Edge Technology
Leveraging advanced technology like operating microscopes, digital imaging, ultrasonic instrumentation, and fiber optics, endodontists offer fast and comfortable treatment to their patients.
Ready to Save Your Natural Smile?
Experience expert non-surgical root canal treatment with Pannu Dental's Endodontic Procedures. Say goodbye to dental pain and preserve your natural teeth.
Contact us today to schedule your consultation and secure your smile for years to come. Your dental health is our priority!
Inspiring Stories to Make You Smile
"This office is amazing! Always clean and the staff is very friendly. My son had…
Read More
"Dr Pannu is the best! Their office always treats us like family and makes us…
Read More
"I've been going to get my cleanings done at Pannu dental and the service is…
Read More
"Everyone on front desk are so warm and welcoming as soon as you walk in.…
Read More
Schedule a Consultation Today!