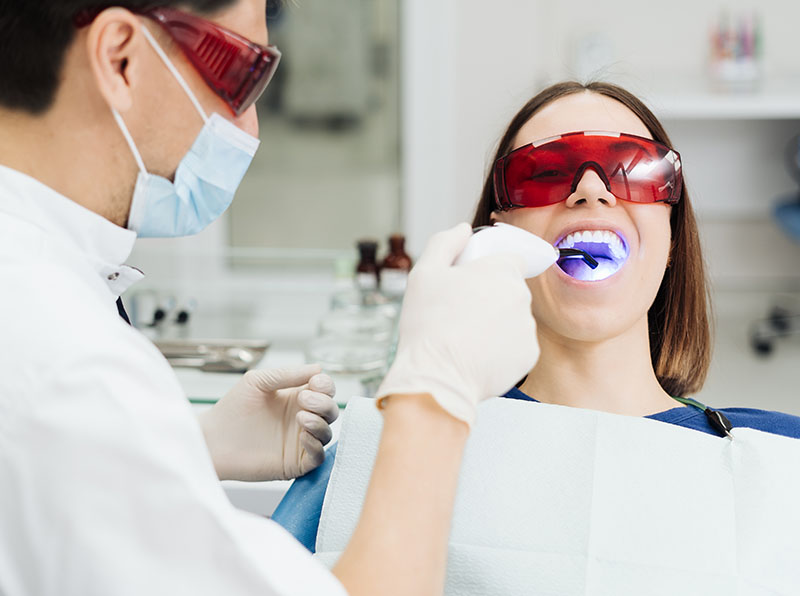 Unveil a Brighter Smile
Reveal a dazzling smile with our teeth whitening procedure, a simple and effective way to enhance your smile's natural beauty.
Professional Teeth Whitening
Our teeth whitening process is safe, swift, and budget-friendly. You can choose to brighten your upper teeth, lower teeth, or both, depending on your preference.
We'll provide custom bleach splints designed exclusively for you. These clear splints are filled with a special bleaching agent. Wear them for a few hours each day, and watch them gently fade away, leaving your tooth structure and existing dental work untouched.
In just a day or two, your custom bleach splints will be ready, and we'll guide you on how to use them.
Once your teeth reach your desired level of brightness, occasional maintenance treatments will keep your smile radiant.
Pannu Offers 2 Types of Whitening
Zoom Whitening: Fast-Track to a Dazzling Smile
For those who desire an immediate transformation or gradual enhancement, our Zoom! Whitening System, offered by Dr. Pannu, Dr. Shah, Dr. Phan, Dr. Zaghi, and Dr. Dheri, provides the ideal solution.
Achieve a radiant smile in the comfort of your dentist's office or during a few nights of slumber.
Discover the Zoom! Advantage:
Zoom! In-Office Whitening System: Experience a remarkable change of up to eight shades* in slightly over an hour. Relax at our office while this technology revitalizes your smile. It's the perfect choice for those seeking immediate results.
Zoom! Take-Home Whitening System: Unlock an average of six shades of brightness in just three nights* with our revolutionary, patent-pending gel. You can even go lighter with additional applications. Start on a Friday, and by Monday, unveil your stunning new smile.
LaserSmile®: The Ultimate Teeth Whitening Experience
Experience the future of teeth whitening with LaserSmile®, the pinnacle of in-office accelerated whitening systems. Say goodbye to tooth enamel discoloration and hello to a more aesthetically pleasing smile.
The Power of LaserSmile®:
LaserSmile® uses the extraordinary capabilities of laser technology, seamlessly combined with an activation gel. This groundbreaking gel features a key ingredient with a century-long track record in teeth whitening. The result? A visibly whiter smile!
In a single visit to our office, you can transform your smile in a mere 60 minutes. Relax in our comfortable environment as LaserSmile® performs its magic. You'll leave with the brightest, most radiant smile ever.
Embrace the future of teeth whitening with LaserSmile® — it's fast, safe, and exceptionally effective.
Ready to Shine?
While over-the-counter bleaching agents are available, we recommend using products endorsed by our practice to ensure the safety of your gums and teeth. Trust our expertise to help you achieve a brighter, more vibrant smile. Discover your ideal option for a beautiful white smile with a customized consultation.
Inspiring Stories to Make You Smile
"This office is amazing! Always clean and the staff is very friendly. My son had…
Read More
"Dr Pannu is the best! Their office always treats us like family and makes us…
Read More
"I've been going to get my cleanings done at Pannu dental and the service is…
Read More
"Everyone on front desk are so warm and welcoming as soon as you walk in.…
Read More
Schedule a Consultation Today!