A Renewed Smile and Confidence
Dental implants are a revolutionary solution designed to restore your smile, making it look, feel, and function just like natural teeth.
If you've lost teeth, dental implants provide the opportunity to regain the ability to eat a wide range of foods and smile confidently, knowing your teeth appear natural and your facial contours are preserved.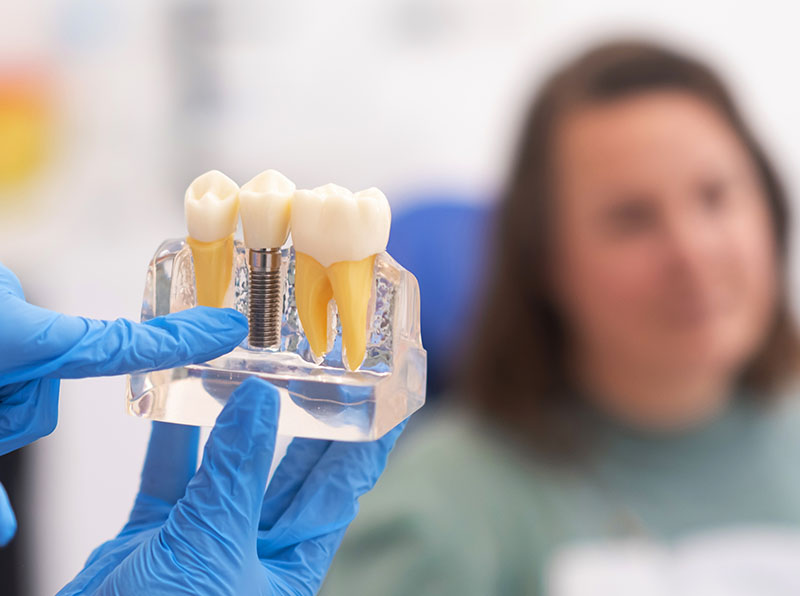 How Dental Implants Work
Dental implants consist of tiny titanium posts strategically placed into the jawbone at the site of missing teeth. Over time, the bone naturally bonds with titanium, creating a strong foundation for artificial teeth.
Beyond the aesthetic benefits, dental implants also play a crucial role in preserving facial structure, preventing the bone deterioration that often occurs when teeth are missing.
Dental implants are truly transformative, allowing individuals to rediscover comfort and confidence in everyday activities such as eating, speaking, laughing, and enjoying life to the fullest.
If you believe that implant dentistry is the right choice for you, we recommend beginning with a dental and radiographic examination, as well as a comprehensive health history review.
During these consultations, our experienced specialists at Pannu Dental Group will address your unique needs and concerns. The dental implant procedure typically involves two surgical phases for most patients.
Why Dental Exams and Check-Ups Matter
Phase 1
Implant Placement
During this phase, dental implants, acting as metal anchors and tooth root substitutes, are surgically positioned within the jawbone. They initially remain beneath the gum surface for three to six months to allow gradual bonding with the jawbone.
Temporary dentures can typically be worn, and a soft diet is recommended during this initial healing period. Then, your restorative dentist will design your final bridgework or denture to enhance both function and aesthetics.
Phase 2
Early Problem Detection
Once the dental implant has fully bonded with the jawbone, the second phase begins. The surgeon will uncover the implants and attach a small healing collar. This stage allows our specialists to initiate the creation of your new teeth.
We then take an impression, connect the posts or attachments to the implants, and meticulously craft the replacement teeth over these posts or attachments. This entire process typically spans six to eight months, and most patients can continue with their daily routines without disruption.
Are You Seeking Dental Implants in the Bay Area? Look no Further!
Rediscover your smile, confidence, and the joy of living life to its fullest with dental implants. If you're interested in learning more or pursuing dental implant treatment, please don't hesitate to contact us for a consultation.
Our team is here to support you on your journey to a vibrant smile and improved quality of life.
Inspiring Stories to Make You Smile
"This office is amazing! Always clean and the staff is very friendly. My son had…
Read More
"Dr Pannu is the best! Their office always treats us like family and makes us…
Read More
"I've been going to get my cleanings done at Pannu dental and the service is…
Read More
"Everyone on front desk are so warm and welcoming as soon as you walk in.…
Read More
Schedule a Consultation Today!