Dr. Shah
General Dentistry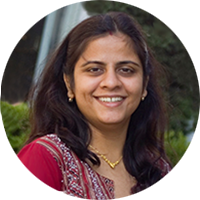 Dr Rupal N. Shah is a practicing dentist since 2005. She has earned her DDS from University of Southern California and BDS from Maharashtra University of Health Sciences. During her academics at USC she was selected as an Honored Alumni member of Omicron Kappa Upsilon, a National Dental fraternity. To qualify for this she was in the top 20% of her class based on leaderhip and scholarship skills. She has also been in the Dean's List Meriting Place for Academic Achievement (Final GPA of 3.96 out of 4). She is a proud member of ADA(American Dental Association), CDA(California Dental Association) and SACDS(Southern Alameda County Dental Society).
As a USC graduate, she has had the opportunity to study the most advanced technologies and techniques that both improve your health as well as your appearance. The years of schooling and experience make her dependable and maintain high performance in all the fields of dentistry. Her belief "treat a patient the way I like to be treated when I visit my doctor" makes her provide treatment where real care and compassion is combined with her strong educational experience to provide the best in dental care. She involves the patient one to one for treatment planning. She is respected and trusted by patients of all age groups.
She is married to Nirav Shah, an IT Professional and is a proud mother to Vraj. Her hobbies include reading, singing and spending valuable time with family.
She looks forward to serving people to maintain and improve their dental health with personal undivided attention.
Dr. Mistry joined Pannu Dental Group in 2017; her practice focuses on Family Dental Care including Pediatric dentistry. The patients appreciate her gentle professional approach with no compromise on quality of treatment. She continues to improve with continuing education training; her special interest lies in Invisalign, Implant and Cosmetic Dentistry.
Dr. Mistry enjoys cooking, art and spending time outdoors with her son, husband, and dog- Rumbum.
What can Dr. Shah do for you?
Specializing in General Dentistry